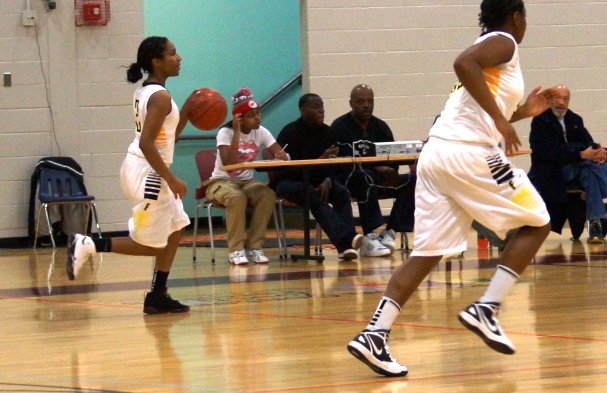 By Justin A. Rice, Globe Correspondent
If basketball doesn't work out for Tajanay Veiga-Lee, she could probably have a career as a professional poker player.
The standout senior guard who led Fenway High to the city and state championships last season can just as easily make you believe she is indifferent about missing the city tournament or waiting to land a basketball scholarship as she is adept at running a fast break or darting down the lane into a forest of taller players.
The Panthers (10-7) — who will launch their Division 4 state title defense Tuesday at 7 p.m. against Notre Dame-Lawrence at Greater Lawrence — missed a chance to defend their city title last week because they forfeited four games for playing junior varsity players too long during varsity games.
"We got kicked out, it's definitely going to motivate us to want to do better in states, want to go far and win another state championship," Vega-Lee said in a calm voice, showing not a hint of regret over her team's recent forfeitures.
Vega-Lee, who is averaging 22 points, 11 rebounds and 8 assists, has not received scholarship offers to play college basketball.
"Deep down inside it's probably killing her because you see all these other girls getting signed, but she hasn't officially signed yet," her father, Sam Lee said. "That's just a good poker face. She's not letting on but I know it's bothering her because it's getting late into the last signing period."
Lee said Auburn was interested but it didn't work out because their post players got hurt so they needed to replace them. He said Providence, Georgia State and Loyola University at Maryland are interested in his daughter but have yet to make an offer.
Lee said his daughter has had Division 3 offers but "right now that's not the direction we want to go yet," he said.
"I wouldn't say it's killing me," Veiga-Lee said. "It is what it is."
Veiga-Lee said she inherited her cool demeanor from her father.
"He's like a quiet type of guy, he doesn't say much," she said. "I just learned from him."
She will also forego her senior year of spring AAU basketball so she can play with the Fenway softball team for the first time in her high school career.
READ FULL STORY HERE: http://www.boston.com/schools/extras/bps_sports/2013/02/fenways_veiga-lee_brings_strong_poker_face_to_state_tournament.html