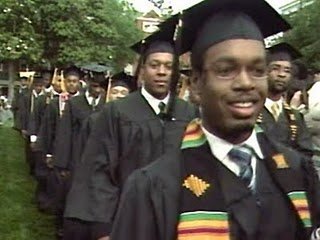 Top 2011 Scholarships for Black Students
From: http://blackstudents.blacknews.com/
also circulated by Lorraine Fowlkes "The Network"
and Bertram Alleyne "METCO Alumni Association"
Top 2011 Scholarships For Black Students

:
Davis-Putter Scholarship FundNeed-based scholarships for college students are part of the progressive movement in their community.

J

K

L

M
McKesson Pharmacy ScholarshipDesigned to assist pharmacy students who plan to continue their education.
N
National Achievement ScholarshipEstablished in 1964 to provide recognition for outstanding African American high school students.
National Black Police Association ScholarshipsFor students pursuing careers in law enforcement, criminal justice, and other related areas.
National Institute of Grants For WomenDesigned to help women and girls find funding for college education, and more.
National Institute of Health (NIH) Undergraduate ScholarshipFor students from disadvantaged backgrounds who are pursuing science and health-related research.
National SMART GrantAvailable to full-time students who are majoring in science, math, technology, engineering, and more.
P
PMI Educational Foundation ScholarshipsEstablished for students in the field of project management or a project management related field.
R
Ron Brown Scholar ProgramSeeks to identify African American high school seniors who will make significant contributions to society.

S
Siemen CompetitionCompetition for individual or team research projects in science, mathematics, engineering, and technology.
T
Thurgood Marshall College Fund ScholarshipsFor first-generation students majoring in business, finance, science, engineering, and more.
Tri-Delta ScholarshipsFor students who excel in chapter and campus involvement,community service, academics, and more.
Tylenol ScholarshipFor students pursuing a career in health care who can demonstrate leadership and academic qualities.
U
United Negro College Fund ScholarshipsAdministers 400 different scholarship programs so low-income families can afford college, tuition, and books.
U.S. Bank Internet ScholarshipFor high school seniors planning to enroll or college freshmen, sophomores, and juniors already enrolled.
USDA/1890 National Scholars ProgramFor students seeking a Bachelor's degree in agriculture, food, or natural resource sciences and related majors.
V
Vanguard Minority Scholarship ProgramProvides merit-based scholarships to minority students studying business, finance, economics, and more.
W
William B. Ruggles Right To Work Journalism ScholarshipAvailable to undergraduate and graduate students who are majoring in journalism or a related field.
Writer's Digest Annual Short Story CompetitionContest for writers who can compose the best fictional short story, written in 1,500 words or less.
X
Xerox Technical Minority ScholarshipFor academic high-achievers in science, engineering, and information technnology.