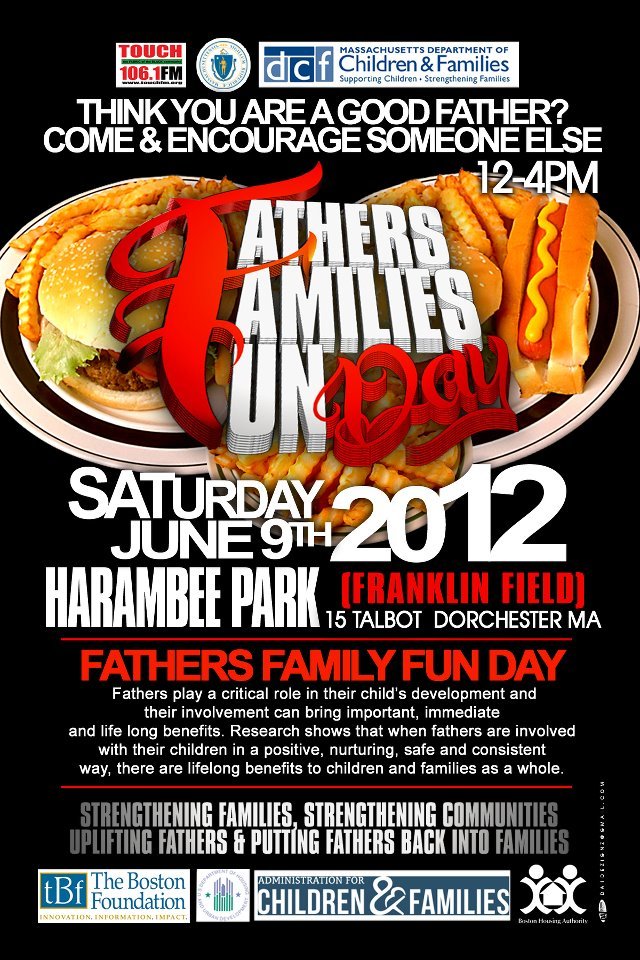 Father's Family Fun Day
Saturday June 9th 2012 – Harambee Park (Franklin Field) 12pm-4pm
RSVP on Facebook
http://www.facebook.com/events/239168106187158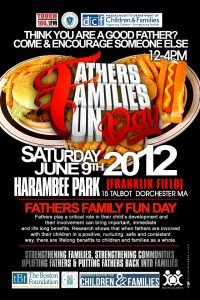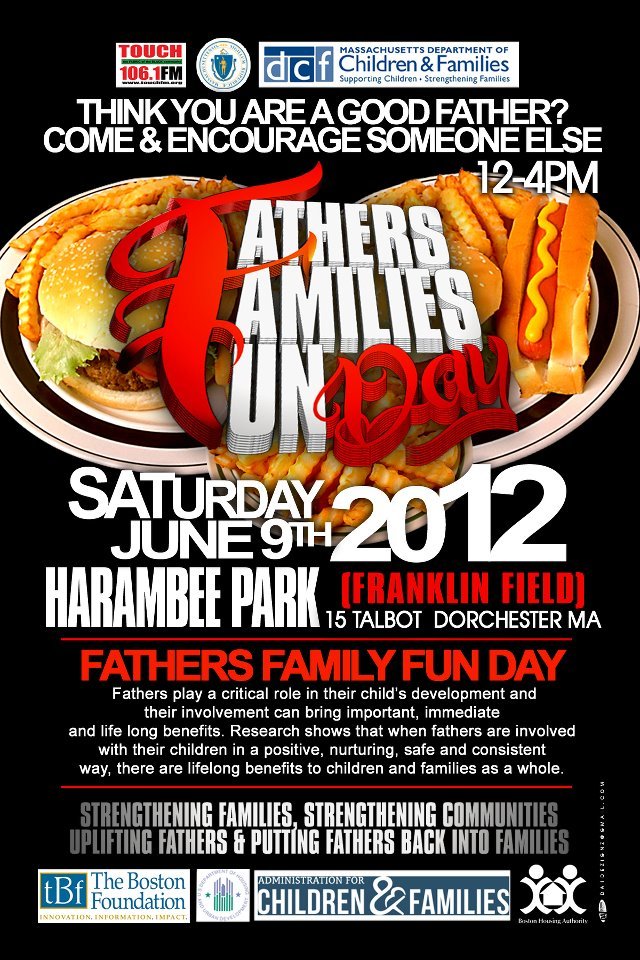 Father's Family Fun Day
*Save the Date * Saturday June 9th 2012 – Harambee Park (Franklin Field) 12pm-4pm
Father's Family Fun Day was planned in order to signify the importance of fatherhood as well as to highlight The Department of Children and Families commitment to identify, engage and support a father's relationship with their children. Fathers play a critical role in their child's development and their involvement can bring important immediate and lifelong benefits. Research shows that when fathers are involved with their children in a positive, nurturing, safe and consistent way, there are lifelong benefits to children and families as a whole.
The Annual Fathers Family Fun Day Event Is Guided By
5 CORE PRINCIPLES
1) All fathers have a right and a responsibility to be involved in the lives of their children. We believe that all fathers should be given a fair opportunity to fulfill their role; and, that even fathers who come from "difficult" backgrounds can make positive contributions in their child's life. Our goal is to celebrate fatherhood and to raise people's awareness (including the awareness of the fathers themselves) of the unique role fathers play in the healthy development of children.
2) Families are more likely to remain intact when they receive the proper services and supports. We ask the community, including human service agencies and religious organizations, to join with us to promote responsible fatherhood and to provide support to men and families in need. With the community (common unity) working together we can create stronger families and healthier children. We need to model positive relationships between fathers and their families and provide mentors to children when that positive role model isn't present.
3) The policies and practices of government agencies and community service providers should be supportive of the father's role in the family. When families are strong the community is strong; when communities are strong the nation is strong; when the nation is strong every family prospers. Federal, state, and local, jurisdictions need to coordinate their efforts to provide appropriate services to families, while being inclusive of fathers.
4) Children have better outcomes when responsible fathers are consistently involved in their lives. Though financial support is vital, a father provides much more to the child's overall well-being. Fathers can learn to nurture and love children as capably as mothers can, given the opportunity. Many fathers need supports that address the challenging issues they face in their lives, e.g., employment, education, housing, health care, so that they can father with dignity and pride. There should be more services and programs available to assist men and fathers.
5) Each of us, as residents of the community and citizens of the state, have a responsibility to keep our streets safe and to ensure that our youth are not afraid to play on our streets and in our parks. Each of us can do something to make a small contribution to improve the quality of life in our community. Towards that end, Father & Family Fun Day was created to bring people together to celebrate the bonds of family and community. We invite one and all to come celebrate with us and enjoy good food, good music, entertainment, face-painting, and much more.
###
We need to highlight the benefits to families when the father is present. For far too long, as a society, we have devalued the role and the relationship of fathers. We have many examples of families that work hard every day to provide a healthy environment for their children. We must provide these examples. We must acknowledge the difficulties at times to maintain our relationships, but with the proper support, we can make a huge difference.
Please help me to get the word out-If you provide services to men and would like to participate please contact me as soon as possible.
John Laing
johnlaing@laingenterprises.com
(617) 288-2030