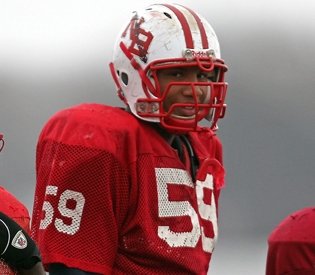 By: Dan Ventura (High School Insider)
[undefined] UConn recently secured the services of the top interior lineman in Massachusetts in Lance Burlingame of New Bedford. The 6-foot-4, 255-pound tackle committed to the Huskies on June 10.
Burlingame earned Herald All-Scholastic honors as a senior in 2010, leading the Whalers to the Big 3 title and a spot in the Division 1 playoffs. He recorded 84 tackles, seven sacks and recovered five fumbles.
"Lance is a fabulous football player," New Bedford coach Dennis Golden said following his team's upset win over Brockton in 2010. "We think he's very sharp in his technique, strong in the weight room and practices very hard. He sets a real good example as a team leader. When he plays well, we play well."
Burlingame spent last season at Dean College in Franklin. In nine games, Burlingame registered 35 tackles (10 for losses) and four sacks to go along with a pair of fumble recoveries.