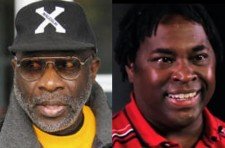 Are you Black enough? Sadiki Kambon vs. Adrian Walker
by: Jamarhl Crawford Publisher/Editor
Yesterday on Touch 106.1 FM's Morning Show with host Charles Clemons the subject of discussion was the recent column in The Boston Globe written by Adrian Walker.  The column was critical of a letter recently penned by Kambon and sent to the Governor expressing outrage over the appointment of a white man as chairman of the board of RCC. In the column Walker described unfavorable opinions of Kambon's tactics to which Kambon strongly disagreed.
Kambon took to the airwaves to present his own side of the story and during the conversation several times made suggestions that somehow Adrian Walker was "not really Black," but "Black only in terms of skin color".  I called in to express a different point of view, suggesting that we examine the contents of the column that were not personal and also take into consideration another story written in The Boston Herald which also found similar points. In response to my comments, Mr. Kambon replied "Well, if you want to align yourself with an Uncle Tom like Adrian Walker then that's your choice" and suggested that there were only two sides: the side of the community (his side of course) or the side of Adrian Walker (the side of Uncle Tom's).
Here we wanted to provide our Blackstonian network the opportunity to read the column and the article for yourself and draw your own conclusions. (we even found another article from Boston Business Journal)
Education vs. turf at Roxbury Community College
By Adrian Walker | GLOBE COLUMNIST JUNE 03, 2013
Article Link
Activist upset RCC's new chairman is white, but on campus it's a non-issue
Thursday, May 30, 2013 By: Erin Smith Boston Herald
Article Link
New Roxbury Community College chairman is opposed because of his skin color
Mary Moore May 28, 2013 Boston Business Journal
Article Link