Blackstonian Editor's Note:
Mr. J.D. Nelson was an iconic man.  I have had the pleasure to be around him through my friendship with his son and my good friend JD Nelson aka Gadget which many from the Roxbury and Hip-Hop community will remember from Fever Magazine. In this time of loss we want to extend our deepest condolences to the entire Nelson Family. We also want to remember and pay respect to a man who was a pioneer in so many aspects and a shining example of hard work.  We are running the entire obituary here from the Boston Globe.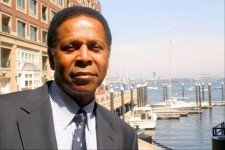 J.D. Nelson, 76; admired for business, political acumen
By Bryan Marquard |  GLOBE STAFF     JULY 05, 2013
An avid sailor, J.D. Nelson settled on a nautical reference when he created an institutional investment firm in 1990. Squeezing two words together, he called it RhumbLine, a term for navigating a direct course from point A to point B. But when it came to succeeding in Boston finance and politics, he charted his own unique route, often sidestepping paths others followed.
From his youth in Roxbury as a son of immigrants, Mr. Nelson became a rising executive in Boston's banking community without going to college. And in the historic 1983 election, he managed the campaign of Melvin King, the first African-American to make it past Boston's preliminary election for mayor. Yet when King's final election bid fell short, Mr. Nelson still ended up in City Hall.
"He supported Mel King, but the day after the election I called him up and said, 'I want you to join my administration,' " recalled Raymond L. Flynn, who brought Mr. Nelson onto the transition team for his first term as mayor. "He was really the cream of the crop in the city. You don't get too many like him."
Mr. Nelson, the founder of RhumbLine Advisers and a former chief administrative and budget officer for the Democratic National Committee, died of complications from Alzheimer's disease June 30 in his Rowes Wharf home in Boston. He was 76.
"He was amazing beyond my comprehension," said Wayne T. Owen, who in 2007 became chief executive of RhumbLine.
The two met more than 30 years ago at State Street Bank, where Mr. Nelson became a senior vice president and helped establish the bank's public funds division, building it into a $70 billion operation.
At RhumbLine, Owen said, Mr. Nelson was just as adept at creating an investment firm from scratch.
"He was everything you wanted in a mentor. He had great leadership skills, he was a great visionary," Owen said.
"He was really all about developing a talented team. From a mentor standpoint, he wasn't really concerned about advancing himself. He was all about advancing others, and that was really a successful formula."
A skier who kept a condominium at the Waterville Valley Resort in New Hampshire, Mr. Nelson also for a time managed freestyle skiers, and was sought after as a companion for times away from work.
"He's probably one of the most fun persons that you could ever be with because of his great sense of humor," said Jerry Dunfey, a longtime friend whose family formerly owned the Parker House.
"He could tell jokes better than a comedian. He could tell a five-, 10-, 15-minute long story joke. He just had that knack."
Because of Mr. Nelson's time in Washington in the late 1970s with the Democratic National Committee, the children of President Jimmy Carter were guests at his Waterville Valley residence.
"J.D. was always heavy-duty involved in politics, in business, in pleasure," Dunfey said. "And we probably had the most fun that you could ever have in a lifetime."
Born in Boston, John D. Nelson was the youngest of four sons born to Maston Nelson and the former Enid Sutherland, who met on Cape Cod after both emigrated from Jamaica.
Mr. Nelson's father was business manager for the Amalgamated Clothing Workers union in Boston. His mother was president of Jamaican Associates, a charitable group in Boston. The Boston chapter of the NAACP named her mother of the year in 1979.
The Nelsons lived in St. Joseph's Parish in Roxbury and were pioneering African-American residents in what had been an Irish neighborhood.
"You have friends who are mean but they're not bigoted. They're just mean," Mr. Nelson told the Globe in 1994, reminiscing about his childhood.
"Every kid goes through that. Sometimes it's because you wear glasses or play a violin. Sometimes it's because you're black."
Ultimately, "when you're a kid, if you can hit the ball far and fast you'll have friends," he added.
Mr. Nelson and one of his older brothers were both long-ball hitters. David S. Nelson, who died in 1998, became the first African-American man appointed to the federal bench in Boston.
Initially considering the priesthood, Mr. Nelson spent three years studying in a seminary in Newburgh, N.Y. He graduated from Roxbury Memorial High School and served in the Navy before going to work at a bank in Boston.
"He was a teller," said his son, Joseph, of Boston. "My father never went to college. He was self-educated, just a brilliant guy, and he worked his way up from a teller to State Street Bank as a senior VP."
Mr. Nelson worked with the Democratic National Committee in Washington from 1977 to 1978, the year State Street Bank hired him.
Rudolph Pierce, a friend and former Superior Court judge, said that what was impressive about Mr. Nelson was that "he was a guy who didn't finish college, yet he worked at the Democratic National Committee during the Carter administration, became an executive at State Street Bank, and then went on to start an investment firm. He was an extraordinary person."
At RhumbLine, which Owen said currently has $32 billion in assets under management, Mr. Nelson's keen competitiveness was apparent whenever the firm made final presentations to potential clients.
"We always saved J.D. for the closing comments," Owen said. "Oh, boy, he was magical."
Mr. Nelson, he said, "really knew how to read a room" and was noted for his ability to make would-be clients comfortable.
"Then when he won business, his client service skills were just legendary, Owen said.
"We have a saying on the board at RhumbLine from J.D.: Never forget who's buying the bacon. That was such a great saying."
In addition to his son, Mr. Nelson leaves two daughters, Aleta of Florida and Nina of Los Angeles; five grandchildren; and two great-grandchildren.
A memorial Mass will be said at 11 a.m. Wednesday in St. Cecilia Church in Boston.
King, whose mayoral race Mr. Nelson managed, recalled that Mr. Nelson "had a vision and view" that became part of the campaign, and added that Mr. Nelson encouraged him to use the quote:
"We may have come on different ships, but we're all in the same boat now."
Mr. Nelson's sentiment remains "appropriate today," King added, particularly "if you think about how we are in need of recognizing that when we're here, we're in the same boat and we need to learn how to keep it afloat so that we're all able to participate in what are the fruits of labor of this city, this country, and this world."
Bryan Marquard can be reached at bmarquard@globe.com.