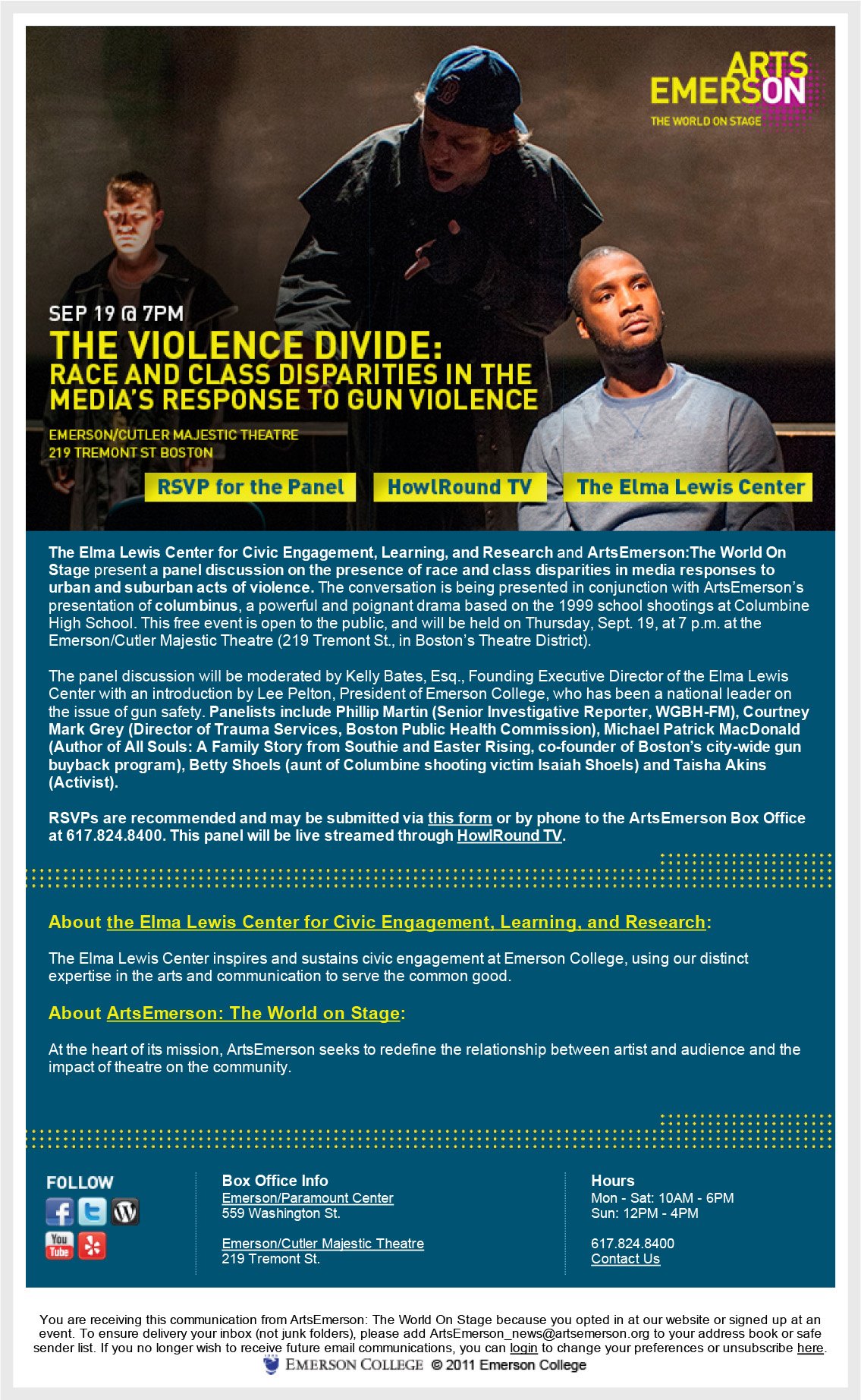 The Violence Divide: Race and Class Disparities in the Media's Response to Gun Violence
on Thursday, September 19th at the Emerson/Cutler Majestic Theatre at 7:00 pm.
The Elma Lewis Center for Civic Engagement, Learning, and Research and ArtsEmerson: The World On Stage present a panel discussion on the presence of race and class disparities in media responses to urban and suburban acts of violence. The conversation is being presented in conjunction with ArtsEmerson's presentation of columbinus, a powerful and poignant drama based on the 1999 school shootings at Columbine High School. This free event is open to the public, and will be held on Thursday, Sept. 19, at 7 p.m. at the Emerson/Cutler Majestic Theatre (219 Tremont St., in Boston's Theatre District).
The panel discussion will be moderated by Kelly Bates, Esq., Founding Executive Director of the Elma Lewis Center with an introduction by Lee Pelton, President of Emerson College, who has been a national leader on the issue of gun safety. Panelists include Phillip Martin (Senior Investigative Reporter, WGBH-FM), Courtney Mark Grey (Director of Trauma Services, Boston Public Health Commission), Michael Patrick MacDonald (Author of All Souls: A Family Story from Southie and Easter Rising, co-founder of Boston's city-wide gun buyback program), Betty Shoels (aunt of Columbine shooting victim Isaiah Shoels), and Taisha Akins (Activist).
RSVPs are recommended, and being accepted at http://bitly.com/TheViolenceDivide or calling the ArtsEmerson Box Office at 617-824-8400. This panel will be live streamed through HowlRound TV at newplaytv.info.