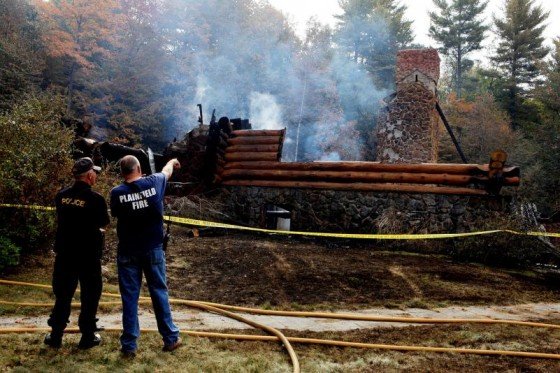 Baystate Banner Publisher Melvin Miller's NH Home Burns To Ground
Melvin Miller, Owner and Publisher of the Baystate Banner, was a victim of a raging inferno which claimed his New Hampshire home.  No one was home at the time and no one was injured however the fire consumed the entire house.  Fire officials who arrived on scene said the house was completely engulfed in an inferno and beyond saving. Neighbors reported that the fire was so intense you could see the glow in the sky.
Recently, Miller has been engaged in a war of words with The Boston Globe which has been critical of a $200,000 loan provided Miller at the behest of Mayor Menino through the BRA and has yet to be paid back in full.  Miller has responded consistently that the $200,000 loan was not in danger of going unpaid because it was secured by a property worth much more than the $200k.  The NH house which was totally destroyed by fire was the property that secured that loan.  The fire is currently under investigation by NH officials and the City of Boston has not yet commented on what this loss for Miller means in terms of the status of the loan.
Boston Globe article:
N.H. home of Bay State Banner founder burns in spectacular fire
http://www.bostonglobe.com/metro/2014/09/30/home-bay-state-banner-founder-burns-spectacular-fire/nqvunjArIyS9kD3HxDZEeN/story.html?p1=Article_InThisSection_Bottom#comments
Valley News article:
Plainfield Fire Under Investigation
http://www.vnews.com/home/13762990-95/plainfield-fire-under-investigation