National Blackout:
Blackout/Boycott & Buy Black Campaign
THE BLACKSTONIAN HAS JOINED THE NATIONAL BLACKOUT
JOIN WITH US!!!
The National Blackout consists of 2 intentional actions:
1. BLACKOUT: DO NOT SPEND ANY MONEY OUTSIDE OF OURSELVES.
– Those businesses who do not support or give back to the Black Community
– Those businesses who oppress us and operate to the detriment of our community
– Those businesses who profited from the Slave Trade
2. BUY BLACK: ONLY SPEND WITH OURSELVES.
– Support local Black Businesses
– Buy Black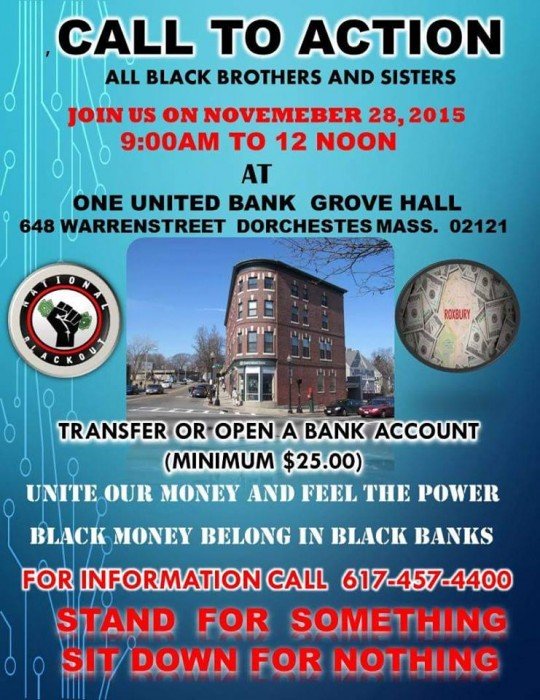 LOCALLY HERE IS WHAT WE WILL DO:
BOSTON BLACK BUSINESS LIST

ADD A BUSINESS

VIEW THE PUBLIC LIST

Short URL to add Businesses:

SHARE URL: https://goo.gl/7dpCiw

#HASHTAGS

#Blackout

#NotOneDime

#NationalBlackout

#BlackFriday

#SupportBlackBusiness

#JusticeOrElse

#BuyBlack

#BeTheOrElse

#BlackOwned

#RedistributeThePain

#Blackout4JustUs

#ShutEmDown

#NoJusticeNoProfit

#BlackDollarsMatter

#FreezeFrameBlackBoston

WEBSITES WWW
PLEASE USE ANY OF THE FOLLOWING IMAGES WHERE APPROPRIATE ON YOUR SOCIAL NETWORKS, FACEBOOK, TWITTER, etc.