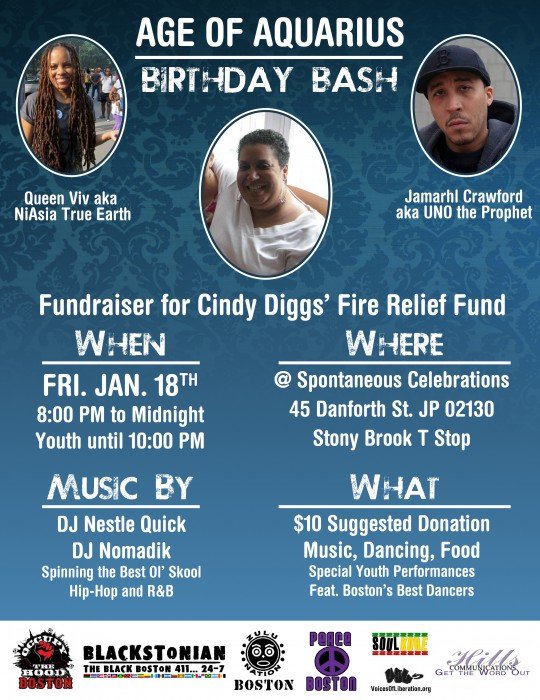 Come and join us as we raise funds for Cindy Diggs who suffered a tragic fire with her family on Christmas Eve. Cindy has dedicated herself to helping the City of Boston's Youth through her efforts organizing Peace Boston as well as UMMF an effort to galvanize Boston's Hip-Hop community.
On this night we celebrate the Birthdays of two of Boston's own
– Queen Viv aka NiAsia True Earth
– Jamarhl Crawford aka UNO The Prophet
Both born on Jan. 22nd, and friends of Cindy's for over 20yrs, we couldn't think of a better way to celebrate OUR Birthdays, than by giving back to a person who has given so much.
The only B-Day gift we want is your attendance and donation for Cindy & family!!!
ALL PROCEEDS/DONATIONS GO DIRECTLY TO CINDY DIGGS & FAMILY!!!
YOU CAN DONATE HERE VIA PAYPAL
https://www.paypal.com/cgi-bin/webscr?cmd=_s-xclick&hosted_button_id=6ZRLFVPQD956A
RSVP on Facebook
http://www.facebook.com/events/325674627546192/
Free-Will Offering, come drop a ducket in the bucket!
COME THRU
ON FRIDAY JANUARY 18th
SPONTANEOUS CELEBRATIONS
45 Danforth St. Jamaica Plain 02130
Family Friendly ol skool jammy jam!!!
Come with a good attitude, ready to have fun and dance!
8-10 pm Youth
10pm-Midnite Adults
OL SKOOL HIP-HOP and R&B all night long!!!
spun by:
DJ Nestle Quick
DJ Nomadik
Come show your Love, Respect & Appreciation for Cindy Diggs
and at the same time celebrate the born days of Queen Viv and Jamarhl Crawford!!!
Listen to a special message from Jamarhl Crawford on why this is important!