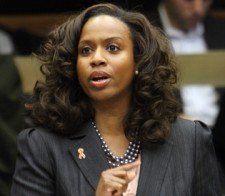 Don't bottle up liquor licenses
State cap holds back city neighborhoods
BY: AYANNA PRESSLEY
THERE IS A RENAISSANCE happening in Boston. Take a look at the activity in the Seaport District — restaurants, cultural events, start-ups and new visitors. Roslindale Square has become a bustling village with new restaurants and shops opening seemingly every day. In my own neighborhood of Dorchester, Tavolo Restaurant and Ashmont Grill have become community anchors for residents and travelers arriving by train, bus, and car. But what about Roxbury or Mattapan?
While burgeoning restaurant scenes lead to jobs and economic growth in some neighborhoods, others are left behind. There are no doubt a number of reasons for this, but a big one – and one that we in government can do something about – is the way we control and distribute liquor licenses in Boston. In 2011, Governor Patrick took a step in the right direction by proposing legislation that would give authority over appointments to the Boston Liquor Licensing Board back to the city's mayor. And we should renew a push for this legislation this session.
But what is really stifling renaissances in places like Roxbury and Mattapan, is the state cap on liquor licenses. Cities and towns, not the state, should have the authority to grant licenses according to their own economic goals. And in Boston, each of our neighborhoods should have equitable opportunity to spur economic revitalization like the one happening along the South Boston waterfront. That's why I will be holding a hearing this year on this matter and filing a home-rule petition that would eliminate the cap on liquor licenses.
Over the last several months, I've been meeting with local entrepreneurs, Main Streets organizations, and neighborhood and civic associations. There is a common theme that emerges from these conversations: The current liquor license process is confusing, and the cap limits access and creates often prohibitive costs for small businesses trying to get started. The scarcity of liquor licenses drives up their price, from $50,000 for a beer and wine license to upwards of $450,000 for a full liquor license.
The current cost of procuring a liquor license prevents a budding entrepreneur or small business owner from establishing businesses in communities starving for new restaurants and cultural opportunities. The owner of the Dot to Dot Café, a rare local dining option for residents living along Dorchester Avenue between Fields Corner and Ashmont, is struggling to keep her business afloat because customers want wine with dinner and there are no licenses available.
There also seems to be an overconcentration of liquor licenses in certain Boston neighborhoods and a scarcity in others. The North End and Allston-Brighton have a plethora of restaurants and entertainment venues, and many residents in those neighborhoods have told me they don't want any more liquor licenses. In contrast, neighborhoods like Roxbury and Mattapan and certain parts of Dorchester lack places for people to sit down and have a meal together. As Boston competes to attract and retain young talent and new families, the absence of cultural and dining options outside of the downtown core gives prospective new residents or businesses little incentive to consider settling in other parts of the city.
This isn't about turning Main Street into Bourbon Street – it's about economic development, supporting small businesses, and creating job opportunities for local residents, particularly those who face barriers to full employment. It's about developing culturally vibrant neighborhood centers where families gather, young professionals meet after work, artists and musicians are inspired, and the curious feel compelled to visit.
Entrepreneurs in Roxbury and Mattapan are eager to join this renaissance. But without changes to the state's archaic liquor license law, these neighborhoods, and others like them, stand little chance of becoming vibrant business and cultural centers that benefit local residents and boost Boston's bottom line.
Ayanna Pressley is an at-large member of the Boston City Council.