STATE OF EMERGENCY 
(PROPOSED SINCE 2005)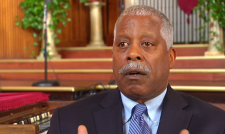 By:  Pastor Bruce Wall
Homicides are occurring regularly in three main sections of the City of Boston, specifically, Roxbury, Dorchester and Mattapan (RDM).  While there have been homicides in other Boston neighborhoods, the majority of the deaths are in RDM.  Because of this disturbing and growing trend of murders, a community State of Emergency was called by a group of local clergy in June 2013.  We originally asked the City to call for a State of Emergency in 2005 but our call was rebuffed and I was attacked and ridiculed by elected officials and clergy for making such a request.
Therefore, in 2013, we put forward the following:
A COMPREHENSIVE PLAN TO ADDRESS
THE CRIME AND MURDERS IN OUR COMMUNITY
1.  URBAN PLANNER
Appoint an independent urban scholar (not affiliated with the City administration) to study why the homicides are occurring in Roxbury, Dorchester and Mattapan. The appointee would be commissioned to work with the Mayor's office, law enforcement officials, community activists, pastors, neighborhood youth, and families who have had their loved ones taken from them by homicide.  This urban scholar will focus their research on homicides in Roxbury, Dorchester and Mattapan, past and present, and with collaboration and input from the Boston Police Department and other stakeholders, develop a 10-year strategic plan for how we can dramatically reduce or halt homicides and the urban violence in the affected neighborhoods, as well as how to sustain peace in the affected neighborhoods.  One failure of the past that cannot be overlooked or repeated is that once Boston became successful in the fight against street-level crime, vis a vis the celebrated "Boston Miracle", the allied leaders of this quite effective strategy put their focus on telling their success stories nationally and worldwide rather than remaining steadfastly committed to sustaining the impressive results achieved.  In conclusion, there were no leaders at home overseeing the people and programs that worked to maintain the once celebrated peace in the City.
2.  MINISTERIAL LIAISON
Appoint a clergy person to the Mayor's staff to routinely interface with all faith-based programs and clergy Citywide.  This clergy person will play a critical role to ensure constant communication and collaboration with clergy about strategy development, and once executed, convene bi-weekly meetings that provide a comprehensive progress report on the strategy as well as Roxbury, Dorchester and Mattapan neighborhoods' quality of life status across all sectors of City services' delivery.
3.  STREET WORKERS
Establish revised criteria for employment in the Street Workers program, and establish new accountabilities and yearly evaluations against qualitative and quantitative results.  For example, future street workers should be men and women with a proven track record of having their own lives demonstratively, positively changed before they are hired. They also should be provided comprehensive training on effective interaction with children and youth, skills to facilitate and de-escalate interactions with them, principles of youth leadership and mentorship, understanding the biological and psychological factors that influence child and adolescent perceptions and behaviors, juvenile and child protection laws, psychological impacts of chronic exposure to trauma and violence, City services (especially police and emergency services), crime scene protocols, etc.
At the outset of the current program, many of the street workers came from or had strong affiliation with a neighborhood church and they used it as their base of operation.  Also, many were favorably considered for hire based on the written recommendation of a clergy person.  The problem, however, with a number of present street workers is that they are ex-offenders.  Some of them are sincere and others are, unfortunately, in it for the money.  They lack the basic training tools and follow-up periodic and annual evaluations to ensure their effectiveness; and they have not undergone a major transformation of their own lives.
4.  BOSTON PUBLIC SCHOOL DEPARTMENT-TRAUMA
Ensure that the Boston Public School Department is fully funded for certified therapists and counselors in all of the schools, and specially trained to work with children and adolescent trauma victims.  We need to spend the next five to six years helping youth and families heal from the trauma of having their family members, friends and schoolmates taken from them through violence.
5. CHURCH AND SCHOOL PARTNERSHIPS
There are churches in Boston and the suburbs that have come together to work with the schools in providing support for the students, teachers and staff of all of the Boston Public Schools.  This partnership has supported the schools in significant ways that are too numerous to share in this writing.  Suffice it to say that these partnerships have gone a long way to rallying the church as well as setting the example to be engaged in the schools in our City.
6.  SPECIAL COMMISSION
Establish a Mayoral Special Commission on Homicides in Boston's Roxbury, Dorchester and Mattapan neighborhoods, comprised of City, state and federal elected and appointed leaders, public safety and neighborhood leaders, clergy, social service agencies, behavioral scientists and academics.  They would be charged with meeting monthly and reviewing all facets of the quality of life and government, nonprofit and volunteer organizations' service delivery in the community.  When necessary, they will develop collaborative strategies, with existing resources; to effectively mitigate emerging issues and the efficacy of the Commission's efforts will be reported as part of the annual State of the City address.
7.  DEPARTMENT OF PEACE INITIATIVES
Create a Department of Peace Initiatives and appoint a special assistant and neighborhood liaison to the Mayor's office (a cabinet level position) as its director to focus on and study urban neighborhood issues locally and nationally, and connect with all of the other major U.S. cities in identifying best practices and a resolution for this national phenomenon in urban America.  This person will oversee the Ministerial Liaison, collaborate with the Urban Planner appointee and Special Commission as well as community, church, business, academic and government stakeholders, especially the Boston Police Department, Boston EMS, Boston Medical Center, Inspectional Services, homicide survivors, and public and nonprofit mental health agencies.  Boston, as it has demonstrated in the past, possesses the valued resources and capacity to set the stage as a national leader in this initiative.
We recommend that the department have two key staff members, entitled Community Ambassadors, as well as two administrative staff to support the work of the department.  We have Community Ambassador candidates to propose, upon request, who we believe possess the dedication, integrity and extensive personal and experiential background to serve the administration and all neighborhoods in the City with distinction.  The Community Ambassadors will work with families in the City affected by homicide, violence and associated psychological trauma to ensure they are connected to the vast array of services and programs needed for long-term healing.  They also will work with neighborhood groups and community service organizations in impacted Roxbury, Dorchester and Mattapan neighborhoods to ensure a holistic approach to community healing and support is realized, as well as outreach to similar institutions nationally to identify best practices that could be modeled in Boston.
We also recommend a minimum budget commitment of $1M for position salaries and benefits, with a minimum $500,000 of said budget targeted to provide emergency intervention and psychological counseling and support to families and youth of homicide and violence.
Moreover, we strongly suggest that the plan of action be strategic and have established guideposts for researching, implementing, adjusting, achieving and evaluating goals yearly, over at least a ten year period.  There also should be a consistent community outreach and review component to establish community trust and confidence.
What is unique about this particular State of Emergency versus previous proclamations is that we are not calling for curfews, shutting down the City or bringing in the National Guard, but we are imploring our new Mayor, Mayor Walsh, and Boston officials to develop an effective, collaborative public safety plan of action and stop what is perceived in the community as minimizing the lives of youth and families in Roxbury, Dorchester and Mattapan
Finally, we are calling on our City to recognize that one homicide is one too many and deserving all of the attention and commitment we are calling for, perhaps equal to the Boston Marathon bombing investigation.
If Mayor Walsh and City officials do not call a State of Emergency regarding Homicides and work quickly to accepting and establishing a plan of action regarding them, we will not be able to garner the focus and attention that is needed to save lives or to maintain Boston's status as a world-class City that cares for youth and families.
Pastor Bruce