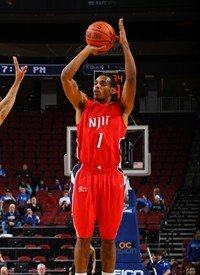 Seniors PJ Miller and Ryan Woods Were Named to Second Team
NAPERVILLE, IL — The Great West Conference men's basketball coaches have selected NJIT's Chris Flores to lead the Preseason All-GWC Team as the 2012-13 Preseason Player of the Year. Highlanders' seniors PJ Miller and Ryan Woods also received preseasons honors, as both were named to the Second Team.
Additionally, NJIT was predicted to finish second amongst the five schools behind the two-time defending GWC regular-season champion Utah Valley. The Highlanders, who received one of the five first-place votes, upset Utah Valley in the semifinals of the 2011-12 GWC Tournament before falling in the title game to North Dakota.
Flores, a native of Dorchester, Mass., is a three-time All-GWC Second-Team performer. The guard finished last season second on NJIT's scoring charts behind 2011-12 GWC Player of the Year Isaiah Wilkerson at 13.1 points per game, which placed him fifth in the GWC. The senior also tied for third in the league with 3.3 assists per game, and led in assist-to-turnover ratio with 1.6. Flores was also named to the GWC All-Tour­nament team, scoring a tournament record-tying 27 points in the upset of the Wolverines.
Flores entered the season ranked 12th all-time in NJIT scoring (1,233) and third in their Division I era.
Miller, a three-year starter in the Highlander backcourt, averaged 6.8 points and 2.1 assists last season, while Woods scored 9.7 ppg and hit 42 percent from long range – which was good for third best in the GWC. Woods, who started his collegiate career with two seasons at Division III Pace (NY) University, netted double-digit point totals in 12 of his last 16 games in 2011-12.
READ FULL STORY HERE: http://www.njithighlanders.com/news/2012/11/12/MBB_1112121829.aspx