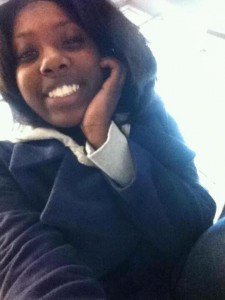 Name: Taylor Lorraine Freeman


DOB:

1/10/1997


Age:

15


Sex:

Female


Race:

Black/African America

Height:

5′ 6″


Weight:

135-140 lbs


Hair:

black


Eyes:

black (described as big "puppy dog" eyes)


Tattoos/Marks:

NONE


Missing from:

Atlanta, GA
Taylor Freeman has been missing since April 26, 2012. She never got on her school bus and never checked into school. She's a student at Westlake High School in Atlanta, GA. Although she never checked in, a friend is saying that she did see her at the school. Taylor was wearing army fatigue khaki/tan colored shorts, possibly a green shirt or jacket and white low-top "Chuck Taylor" styled Levi sneakers.
Her mother said that a friend text Taylor at 1pm and she replied saying, "I'm not in school" and referenced something about "playing a game."
Taylor is approximately 5'6″ tall and weighs 135-140 lbs. She is dark skin with shoulder length dark hair and big eyes. Has no tattoos or any distinguishing marks/scars. Her two front teeth are slightly enlarged. She's been described as very soft spoken, timid and walks with her head down. Taylor recently had dental work done and it's believed her cheeks and mouth area should be somewhat swollen.
If you have any information on the whereabouts of Taylor Freeman, please call her mother, Tisya Freeman at 404.748.5929; her father Michael Freeman at 404.492.3419 and the Fulton County Police Department at 404.730.5700.
Angela M. Childs
Executive Director
Black and Missing but Not Forgotten
www.blackandmissing.org
Phone: (877) 572.6620
Email: anjela@blackandmissing.org
Like us on Facebook: www.facebook.com/blackandmissing
Follow us on Twitter: www.twitter.com/blackandmissing