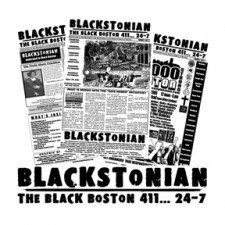 10th Anniversary of The Blackstonian
Join us as we celebrate!
CELEBRATE WITH US!!!
Join our fundraising campaign – Support Local Media
DONATE $10 to celebrate 10 years of the Blackstonian
In October of 2002 the Blackstonian was formed and the first issue  hit the streets of Boston one month later. The Blackstonian was birthed out of the need in Boston to create a local community newspaper to inform and engage People of Color.  Since its original conception the Blackstonian has grown into a one of a kind source for news, information and resources while also staying true to activist roots by conducting community forums, feeding people and providing resources to those with issues ranging from domestic violence to police brutality and unjust incarceration conditions.
" The Blackstonian is not an exercise in journalism, rather we practice 'Journ-activism' "
-Jamarhl Crawford, Publisher/Editor

In our pages, we have tackled issues such as the BPD's proposed "Safe Homes Initiative" and more recently the proposed "3 Strikes Law" in Massachusetts. We also broke major stories to mainstream media like the scandal in MA prisons which led to the departure of the then DOC Commissioner.
Through print (which has now exceeded a total of over 50,000 papers on the street) and our growing online presence (15,000 unique visitors per month and growing) the Blackstonian has solidified its presence in Boston and beyond.
In 10 years, we have been featured in multiple local, national and global media outlets: Boston Metro, Boston Herald, Boston Globe, Boston Banner, Boston Phoenix, Weekly Dig, WILD 1090 AM, TOUCH 106.1 FM, WRKO 680 AM, WTKK 96.9 FM, JAM'N 94.5 FM, BIG CITY FM, Chronicle, Channel 7 News, Channel 25 News, Channel 5 News, Urban Update, CityLine, Say Brother, Basic Black, Greater Boston, and Nationally/Globally on BBC-World News Radio, NPR, PBS, Associated Press, Washington Post, USA Today, Warren Ballentine Show, and Black Enterprise. In continuing the mission to expand the Blackstonian to a worldwide market, we recently secured a syndication deal which literally increases our audience to millions.
Stay with us for the next 10 years and watch us grow!!!!
You can help us
DONATE $10 to celebrate 10 years of the Blackstonian