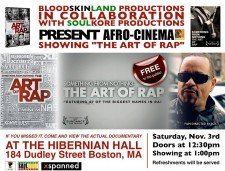 Saturday, November 3rd 2012
BloodSkinLand Production
(in collaboration with SoulKore Productions) presents
AFRO-CINEMA
An afternoon of important films (documentary or movie) being shown,
Followed by a discussion.@ Hibernian Hall
184 Dudley St., Roxbury/Dudley Sq.
(next to fire dept. & barber shop)
Doors open at 12:00pm
PLEASE ARRIVE PROMPTLY – THE FILM WILL BEIGN AT 12:30PM SHARP!!!
Free to the public
Refreshments will be served
Featured film:
SOMETHING FROM NOTHING: THE ART OF RAP
* This documentary was not presented in Boston in its debut, instead it was in the Randolph theatre but only lasted for less than a week. Afro-Cinema gives moviegoers a chance to finally see it this time around.
Visually luscious and drenched with the big beats of classic cuts and freestyle rhyming by some of the masters of the music,SOMETHING FROM NOTHING: THE ART OF RAP is a performance documentary about the runaway juggernaut that is Hip-Hop. At the wheel of this unstoppable beast is Ice-T, who takes us on a personal journey into the asphalt roots of the music that saved his life. This film is not about stardom, bling, or beef; it's about the craft and skill – what goes on inside the minds and erupts from the lips of rap legends. Ice-T travels from coast to coast, engaging intimately with the likes of Afrika Bambaataa, Grandmaster Caz, Melle Mel, Nas, Mos Def, MC Lyte, Kanye West, Rakim, Chuck D, KRS-ONE, Snoop Dogg, Run-DMC and Ice Cube. The film features original rapping and some classic never heard before a cappellas from the mouths of the creators. What emerges is a mighty soul tribute to the original American art form that brought poetry to a new generation.
For more info contact VCR at 617-480-7663 or bloodskinland@yahoo.com
Co-sponsored by Xspanned