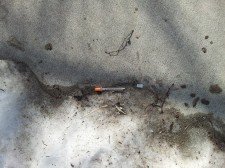 There are many people who are waiting in anticipation for the new look of Dudley Square and Dudley Station. The Blackstonian has long held the position that Dudley needs some attention and tender loving care in order for this transformation to take place and benefit the community of Roxbury.
Here are a few photos which point out some of the recurring problems in Dudley and emphasize the focus of the powers that be on the real estate value without concern for quality of life.
Photos show needle in Dudley Sq. in front of the old BPD Dudley Station and 100 yds away from the new police station. Photos show a solar powered waste receptacle across from Dudley MBTA Station in front of Citizen's Bank with its door ripped off the hinges laying on the street.