Smith & Wesson named #1 on 2013 Globe 100 list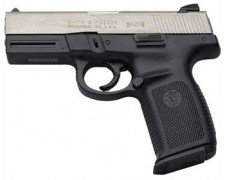 Smith & Wesson Holding Corp. of Springfield secured the No. 1 spot on the 2013 Globe 100 list by achieving revenue growth of more than 40 percent last year, significantly improving profit margins, and delivering an average return on equity of more than 55 percent.
Smith & Wesson sales continued to surge after intense public debate on gun ownership and White House efforts to introduce new gun control legislation. In March, the company said that, despite increasing production, it was unable to meet market demand for its firearm products.
FULL STORY HERE:
http://www.boston.com/businessupdates/2013/05/16/globe-honors-top-massachusetts-companies-anniversary-edition/C0fAneixnSm44zWYKjoUxN/story.html