GREATEST MINDS Mayor's Race Community Forums on 
Roxbury, Dorchester & Mattapan in July / Aug 2013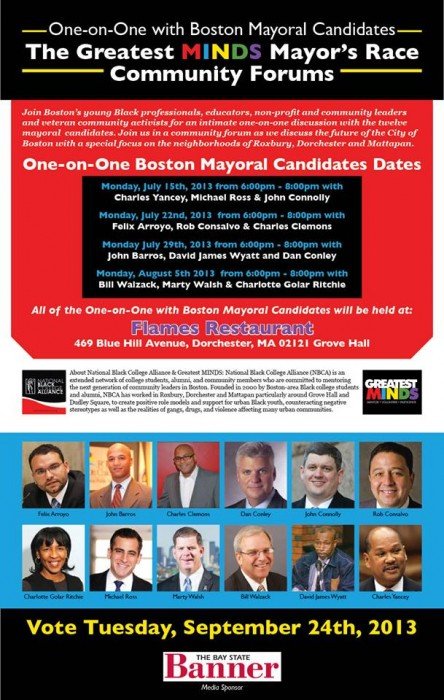 HERE IS THE CONFIRMED LINE UP for the One-on-One with the Boston Mayoral Candidates at FLAMES in Grove Hall:
Monday, July 15th, 2013 ——– 6:00pm – 8:00pm Charles Yancey, Mike Ross & John Connolly
Monday, July 22nd, 2013 ——- 6:00pm – 8:00pm  Felix Arroyo, Rob Consalvo  & Charles Clemons
Monday, July 29nd, 2013  —— 6:00pm – 8:00pm John Barros, David James Wyatt  & Dan Conley
Monday, August 5th 2013 —— 6:00pm – 8:00pm Bill Walzack, Marty Walsh & Charlotte Golar Ritchie
George (Chip) Greenidge
National Black College Alliance/Greatest MINDS
ABOUT THE GREATEST MINDS/NATIONAL BLACK COLLEGE ALLIANCE(NBCA):
About NBCA & Greatest MINDS: National Black College Alliance (NBCA) is an extended network of college students, alumni, and community members who are committed to mentoring the next generation of community leaders in Boston. Founded in 2000 by Boston-area Black college students and alumni, NBCA has worked in Roxbury, Dorchester and Mattapan particularly around Grove Hall and Dudley Square, to create positive role models and support for urban Black youth, counteracting negative stereotypes as well as the realities of gangs, drugs, and violence affecting many urban communities. Our two main strategies are to support college access and success for students of color, particularly those experiencing inter-generational poverty; and to promote civic engagement and community-based leadership in Boston's Black neighborhoods (NBCA's Greatest MINDS Community Engagement Initiative). The NBCA & Greatest MINDS believes in the importance of educational opportunities and social connections that promote success for both individuals and communities.