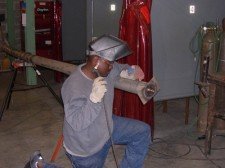 The Application Period for Pipefitter and Air Conditioning-Refrigeration Apprenticeship will be held at the Pipefitters Union Local 537 Training Center, 40 Enterprise Street, Dorchester, MA on the following dates and times.  There is no application fee.
 2014 APPLICATION PERIOD
APPLY IN PERSON AT – 537 TRAINING CENTER, 40 ENTERPRISE STREET, DORCHESTER MA 02125
Start date:  January 6, 2014     –      End date: January 30, 2014
Monday through Thursday …….10:30 AM to 3:30 PM
Fridays and Weekends……….Closed
No application will be accepted after 3:30 PM on Thursday, January 30, 2014
Applicants must apply in person, be at least 18 years of age, a high school graduate or equivalent, and have a valid driver's license.  
Copies of the Following are Required at the time of Application Submisson:
HIGH SCHOOL DIPLOMA OR GED
HIGH SCHOOL TRANSCRIPT OF GRADES OR GED TEST RESULTS
BIRTH CERTIFICATE
VALID DRIVER'S LICENSE
SOCIAL SECURITY CARD
DD-214 (Military Discharge) if applicable
Additional information will be given to applicant at the time of application.
DOWNLOAD HERE:
January application info 2014.doc
Pipefitters 537 strongly urges and welcomes our returning veterans to apply for apprenticeship.  We thank you for your dedication to our country and hope to offer you a career and a brotherhood after your service has ended. Please click the "Veterans in Piping" Logo below to learn more about our "VIP"program and  apply to the National United Association's VIP program.
Registered UA 'VIP' applicants should also apply in January to the Local 537 apprenticeship program.
MORE INFORMATION HERE
http://www.pipefitters537.org/apprenticeship.aspx#content